We all live in a fast moving world controlled by money and we sometimes forget that the little things are just as important and can please just as much if not even more. Sometimes all you have to do is think and let your imagination come up with a plan instead of spending fortunes on trying to get someone into bed. Invest time, save money.
The success of a date doesn't depend on the size of the wallet; it depends on your attitude, your willingness to have a good time and your imaginative date plan. Weather your trying to spice up your relationship without emptying your pockets or you just want ideas for fast, easy and cheap dates where you're almost sure to get laid, these 5 romantic date ideas will get you on your way to imagining your own awesome dates on a budget.
1 – COOK DINNER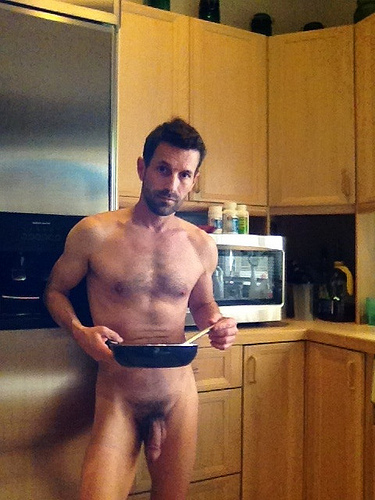 There is nothing sexier than a man in a kitchen. I bet you saw this one coming but you need to be smart about it and little details make all the difference. Of course restaurants are fine but they don't come cheap especially if you're planning on getting a bottle of wine or two and making sure that your date is satisfied.
Start by setting the mood. Make sure your place is nice and clean (especially your bedroom) and that your sheets are fresh and crispy. Dim the lights and add a few candles here and there to give a nice cozy feel to your home.
Build a Music Playlist. The choice of music is important. You want your date to loosen up, feel relaxed and good about being there with you. You will need to build two playlists. One for the moment your date walks in till the end of dinner and one for after dinner which will magically influence your date's arousal and get them into your bed. I suggest a nice relaxing Chillstep playlist.
Don't just cook any dinner. Make sure you cook light so put away the fondue kit and take out the cooking books. If you cook something too heavy, after dinner all your date will want to do is lie down and sleep, but that's what you want now is it? You want him sucking your dick not lazing it up on your sofa. Your plate presentation is important. You could simply make Macaroni and cheese, add a few special ingredients you probably wouldn't usually add and make it look nice. Even if your meal is simple and cheap, by prettying up the plate will do wonders on making it look like a million bucks and your date will think you spent hours in the kitchen making him dinner.
Get a nice bottle of wine. If you don't already have some at home then you've got 13$ to spend on a bottle and make sure it suits your meal. These tiny details will show your date that you care enough to spend a little extra time making sure everything is just right.
Listen to him, compliment him. You need to pay full attention. You want to get laid? You need to make an effort. Listen, ask questions and compliment him when the time is right. Take an interest in him and watch as he will slowly let down all barriers and probably be the one begging you to fuck him.
Have fun and never forget eye contact.. Be yourself, be interesting and flirt. Never underestimate the power of a single soft touch. Purposely softly brush his hand while grabbing something. Stay close but don't be clingy. Let your leg touch his softly and remove it slowly. Look into his eyes when he talks to you and you will be in bed in no time.
2 – STAR GAZING
Another cheap and easy idea is Star Gazing. This date idea leaves place for a lot of talking and flirting. If you live the city, you might have to drive to a quiet country side to do this but the 5$ of gas will be nothing compared to the action you're going to get.
Prepare. Find a nice cuddly blanket so you can wrap yourselves in it when you get to the right star gazing spot. If you have a blow up mattress, (seriously, don't forget the pump, you want him pumping you not the mattress)and a few pillows which I would also throw that into the trunk of your car. You might get lucky right then and there. Get a nice little box and add; drinks (don't forget the glasses), nice snacks (not simply a bag of chips, think of something a little more original) and whatever else you see fit for your date. Don't forget to pack condoms, you never know.
Find a place before the date. You don't want to spend hours in the car with your date looking for the right spot. You want to know exactly where you're going. This will not only show your "I've got everything under control" side but it will also show your date you care and that you actually spent some time preparing. Find a quiet place away from everyone's sight. Make sure you slip into the conversation somewhere that you've never been to this place with no one before. This is sure to win you points.
Do your homework. Find out a few things about stars and constellation. Your date won't expect you to be an astronomer but just knowing a few fun facts will break the ice and lighten the atmosphere. If you don't want to, an easier solution is simply to download the Starwalk app which is guaranteed star fun facts and will help you get loser by looking at the phone screen together.
Have great conversation. If you're not the conversation type, then this date isn't for you. This date is for the experienced conversationalist and good listener. Once you've blown up the mattress, snuggled under the covers it's time to share. Talk about interesting things and if you run out of ideas ask questions. Get to know your date, if you do then you'll get a clue as to how your date likes to sex up. Slowly try and turn the conversation to sex. Slowly, don't jump right at it; it just might break the mood and kill the conversation therefore killing the date. Once you get your date openly talking about sex your almost home free. Get ready to give the stars a porno.
3 – HAVE A PICNIC
A great way to cheapen a date without him noticing is a Picnic. It's cheap, efficient and not very time consuming.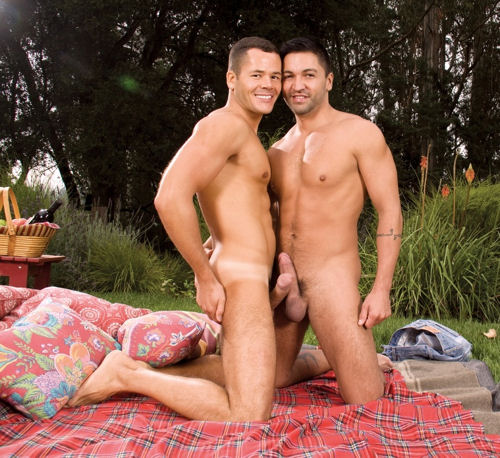 Prepare a variety of foods. Grab a baguette and two good sandwiches at your nearest bakery, a good cheese, some good pâtés, a few fruits (blueberry's, strawberry's, melons), a nice white wine or rosé, two glasses, stick all of that in a nice little basket and you're done.
Find a quiet spot and bring a blanket. Think of a nice quiet spot close to home for a faster return so you can get it on. A park, a field, a beach, by a river, I don't know where you live so I can't tell you where to go. You need to think of this place before the date and make sure it's a bug free place. Too many insects can kill a date faster than you can say fuck.
Be polite and flirty. Always serve your date first. Give him a glass of wine before serving yourself. Make sure you take out all the food and always put your date first. Have a good chat and flirt with him. Look into his eyes and act interested in everything he says, if you can genuinely be interested in what he has to say that's even better. Remember he is human too and might want to have sex with you but he still has feelings.
4 – SENSUAL MASSAGE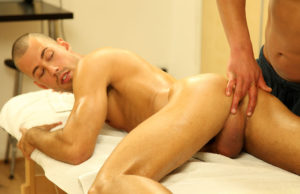 Probably one of the cheapest dates ever .Offer your date a night at your private home spa. Tell him you will make his body feel like never before. You might have sore hands at the end of the date  but I'm willing to bet that it's not the only place that's going to be sore.
Get the right oil. I suggest you visit a sex shop and get edible massage oil that smells really nice. You know smell does a number on influencing a person's desire. Some oils at the sex shop are made to entice that part of our senses. If you cheapen out and don't want to spend 8 or 9$ on a massage oil you can also use baby oil and another massage oil on hand but I'm willing to bet that the few dollars difference will actually make a difference if you get laid or not.
Set the scene. Don't just throw your date on the floor and jump on him for a quick massage. This is a massage date and you are not paid by the hour, the good news if you do it right you're going to get some sex tonight. Set up a place for the massage with a nice comfortable spot, a soft blanket and as many candles as you need to turn off the light and still see what you are doing. Don't take your date their directly. Dim the lights and play some soft relaxing music before he arrives to set the mood. Take him to the sofa where you have prepared a few light snacks, drinks and an oil sample. After some nice chatting and a few drinks you can offer your date a foot massage. If he feels a little embarrassed you can tell him you've prepared a few things for him to freshen up with in the bathroom if he likes. (Make sure you've laid out a nice soft fluffy towel, soap and a washcloth)
Move to the massage. I'm not a massage expert but I know what like. You can also watch a few YouTube tutorials to make you look like an expert. Ask your date if he likes it soft or hard (you might get a giggle out of this one) and my secret to a good massage is that I never let my hands leave the body. Massage every part of the body slowly. If you do it fast your date will feel like you just want to get it over with. If you take your time, it will feel sensual and relaxing and he will relax knowing you like it too. Softly brush against his skin while moving your hands slowly along. Feel his body and show him you want him with your hands. Odds are, if you do it right you'll never get to finish the massage.
5 – SLAVE FOR A NIGHT
This one might sound scary but it's simple and simply will not cost you a dime. It gives your date the impression of control but you will be influencing his choices almost every step of the way. I'm not talking about the leather/leash kind of slave (unless both of you are into that) I'm talking about the "your desire is my command" type of slave.
Set the mood. Like I've mentioned before you need to set the mood. Turn your home into a cozy warm seduction palace. Make it clean. Add candles, dimmed lighting, snacks, and drinks, whatever you want. Environment influences a person's desire and feelings, use this to your advantage. If your date feels you've prepared for the date he will probably take it easy on you.
Offer your slave services. Tell your date that all you want to do is get to know him and please his every desire. What his heart desires is your command, as long as it stays in the house. Tell him that you are his for the night to do what he pleases. Tell him that what he wants is what you want. If he's clueless give him a few examples: "Make us a drink" or "dance for me" or "tell me something you don't usually share" or "Run me a bath" It's kind of a one way truth or dare game where your date is always a winner. I'm almost sure after a little while when he gets into it he'll be asking for a blow job and you know what cums after that don't' you?
All you need is a little imagination and as little as 20$ to show your date a good time and rake in the sex. My advice to you is that you can try almost anything and if you add the element of surprise to it, it's almost always sure to work. Dates love a surprise. They've been on so many dates you need to make it different and original. They won't care if you spent as little as 20 $ because they will have had a great night therefor a great date and best of all both of you will have had some awesome sex.