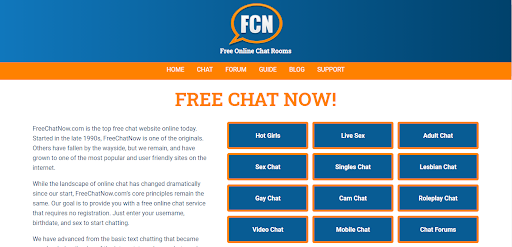 Are you gay? Are you bored, and you want to interact with other gay people? FreeChatNow Gay is the place to be if you're in for a free gay chat. There are gays, lesbians, and bisexual guys worldwide that want to talk with you in real-time on this live gay chat platform.
FreeChatNow Gay is one of the OG's in the gay chat industry. The site was founded in the 90s and has become one of the most popular gay chat sites ever. FreeChatNow's primary focus is to offer free online gay chat that doesn't require signing up. Simple, right?
To new members, the chat site's name is like music to their ears. What more could you ask for than FreeChatNow? A quality gay chat site where you can relax and allow your sexual prowess to take over can be hard to come across, but this site can make you take control. 
The FreeChatNow Brand
As you can see, the FreeChatNow, FreeChatNow.com, or FCN brand has several names! As long as it's been around for so long, the name doesn't matter! It sure isn't going anywhere any time soon.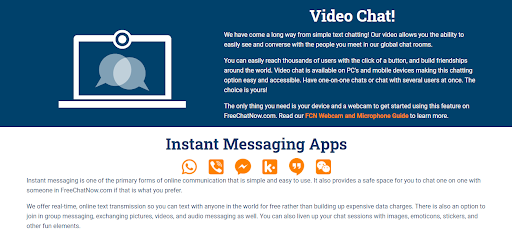 Basic text chatting has dramatically evolved from the days of old. A gay webcam and audio chat room have been added to the site's offerings, bringing it more in line with other trendy gay chat services.
With over 20 years of experience, FreeChatNow is still one of the leading gay sex chat portals. The gay sex chat industry has evolved dramatically over the years. Still, FreeChatNow Gay strives to improve and provide easy-to-use and registration-free gay chat services, making it the most popular gay chat site for users.
Signing Up On FreeChatNow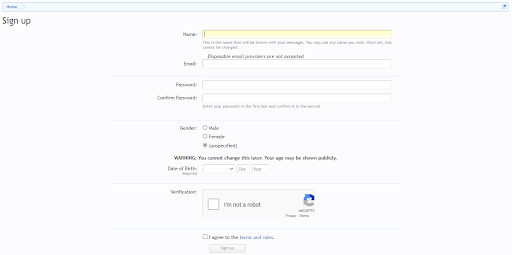 A username and date of birth are required to begin chatting. To start talking with the gay partner of your dreams right away, all you need to do is enter your email address. You may also sign up and create a profile.
As part of the sign-up process, you'll be asked for your email address, and if you agree to the site's terms, you should tick a box. Afterward, you'll receive a confirmation email. Many registration processes follow this standard protocol, so you shouldn't have any trouble with it.
Desktop/Mobile Capability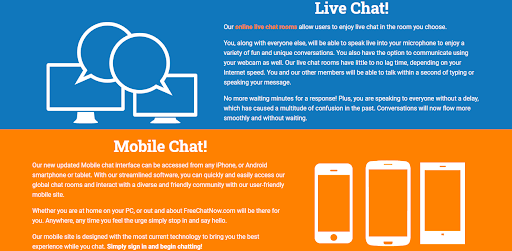 FreeChatNow Gay is just as easy to use on your mobile browser; even if you don't have the option to download an app to take your chat, a  new mobile chat interface with "streamlined software" has been added.  You can speak with sexy and horny gay guys at any time and from anywhere.
User Experience
This site offers a variety of chat rooms based on sexuality and interests. Just like the rest of the site, it's clear and straightforward to comprehend. Even though this gay chat service has been around for a long time, they still keep things simple. Although the site's color palette is a bit off-putting, it's a joy to use and a fine example for others in the chat site industry—clean, simple, and speedy UI. We have no concerns about FreeChatNow at all — it gets top scores from us!
Pricing & Membership Fees

As shown in the name of the site, FreeChatNow Gay is a free service. In addition, there is no need to pre-register.  You are welcome to use the services as a visitor. 
If you're under 18, you can't access this website.  A created account allows users to submit their avatar and access forums. Set up an account to send direct messages to other gay users in the global chat who are not online.
FreeChatNow Gay's free-to-use status has a few flaws, despite its enormous success. There are a lot of distractions out there in the form of ads.  As a free gay chat website, FreeChatNow Gay features a lot of positives that outweigh any negatives.
Pros
Free signup and zero registration

Hundreds, if not thousands, of sizzling hot and horny twinks, hunks, bears, daddies, and more.

The seamless UI makes the site navigation and access easy

Huge gay content available with various categories available

Compatible with major browsers. JavaScript and an updated browser will do. 

Compatible with multiple devices

The website is responsive, so chats relocate, and elements resize to fit your browser window.

Your sexy talks run smoothly without latency or device slowdown

The site enables streaming audio and video from microphones, webcams, and other devices

Upload pictures in many formats, including animated gifs

Users can customize themes

Registered Users are notified when their friends are online and can leave private messages if they aren't

Users can be sorted by gender, age, and preferences

The website design is modified at least once a month to keep up with current trends

Supportive and responsive customer service

Registered users can post questions and comments in forums.
Cons
One of this online portal's significant flaws is its limited feature set. Adult games and interactive chats would improve the website's appeal.

The irritating pop-up ads may interrupt your chat and cannot be avoided

The server for this website is being utilized for several sites, which some users may consider a scam

Although the website's sorting algorithm is pretty standard, visitors may not find the exact criteria they want for a chat partner

Live chats may sometimes be slower than anticipated

Live HD streaming isn't assured

The website design could be more appealing to the eyes
Conclusion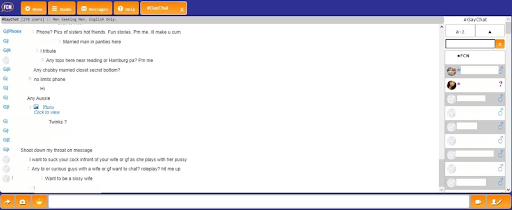 How would you describe FreeChatNow Gay? This gay chat site has been around for years and is a pioneer in the field. In terms of additional features, there aren't many to pick from. Nevertheless, FreeChatNow Gay is devoted solely to gay chat. And this is something the site excels at doing.
The whole process is quick, easy, and beautifully designed (despite the color choice). The site boasts thousands of LGBT members and has been around since the 1990s. Apart from the gay chat rooms, the active forum provides help for new gay members.
As far as gay chat services go, this is perhaps one of the easiest to use and most pleasant ones available. Overall, a great experience! Therefore, FreeChatNow is a site to check out.