Looking for quality porn is easy nowadays given the plethora of XXX cam sites available. It doesn't matter whether you are looking for a live freak show or a calmer performance. You will find it without fail! Don't think there's a shortage of dedicated sites for gays too because there are actually quite a lot. One of those is JerkingMen. 
Have you heard of this website before? Chances are, you haven't. That's because it's not exactly the cream of the crop when it comes to adult gay cam sites. But don't be fooled. Just because it doesn't belong in the Top 10 doesn't mean it is something you should ignore completely.
What is JerkingMen?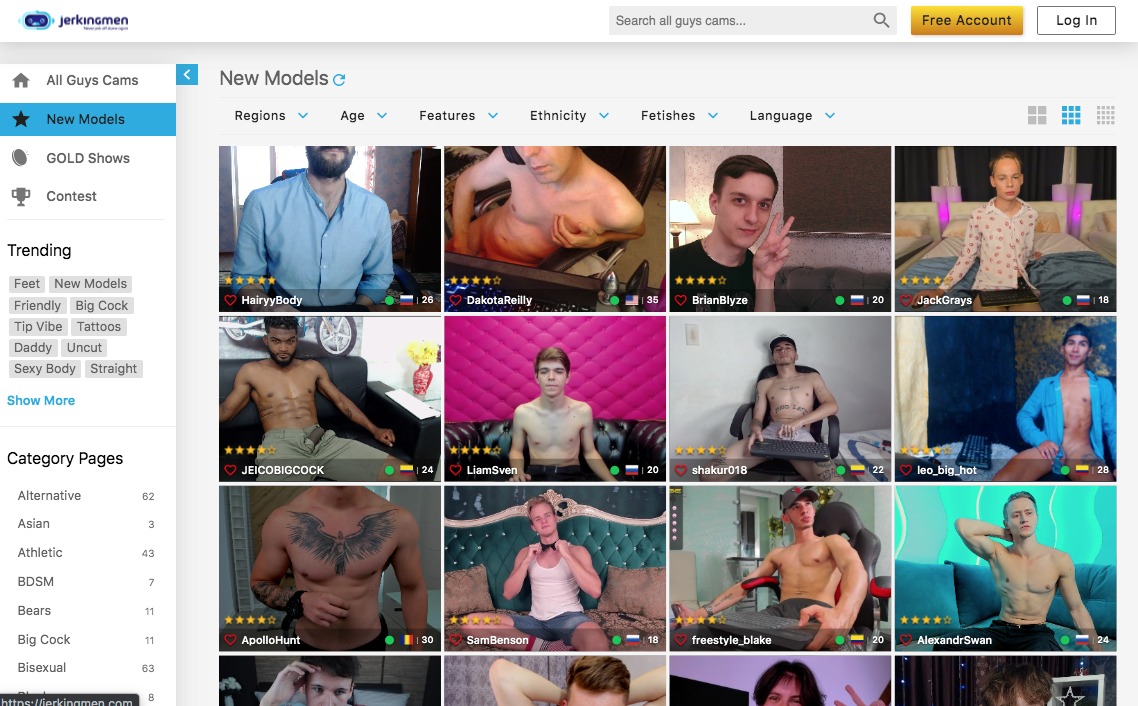 Since you're looking to explore all kinds of kinky gay sex cams, then you should at least take the time to visit JerkingMen. The website is home to various male and gay sex cams that will satisfy your thirst for a hot fapping session! That's right. It is a beautiful platform full of everything you need to jerk off. 
The website was specifically made so you can chat with amateur gay performers while watching them live on cam. Once you interact with them, you will surely enjoy the unique and fun experience! Even if some of them are amateurs, there's no denying that they are well-skilled when it comes to sex. They move in such a natural and graceful manner and you'll find it hard to resist watching the gay sex cams. 
Gay Live Sex Cams: What Can You Expect?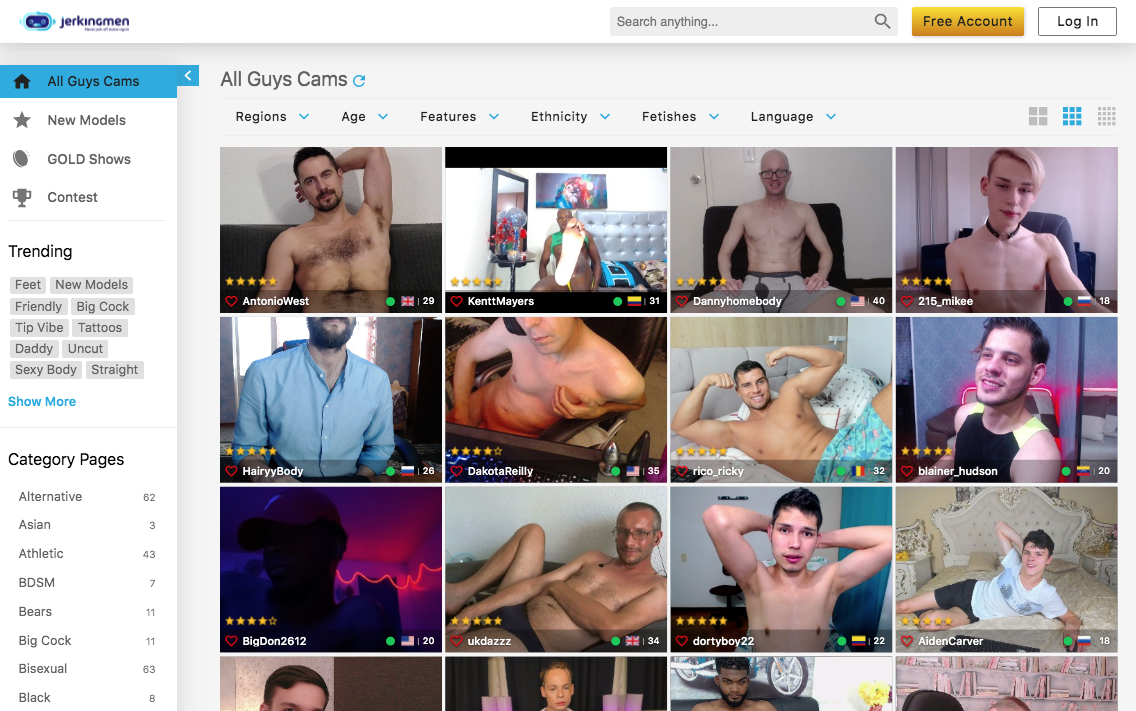 Just by looking at the main page, you can already see the adult sex cams that are currently live. There's quite a lot, so I'm mostly relying on the appeal or hotness level of the thumbnails to decide what I'm going to watch. 
The upper portion of the website shows the different filtering options like religions, age, features, ethnicity, fetishes, and language. For the regions, you can choose from US/CA/UK/Australia, Western Europe, Eastern Europe, Latin America, Asia, and Africa. The age filters also let you choose from teens 18+ to mature 50+. There are kinky gays for everyone! 
You can choose from different features depending on your fetish. 
Party Chat. This is a group chat where you can interact with the models and other horny fans.

Phone. You can also use your phone in an exclusive show!

Interactive Vibrator. You can activate the vibrator by tipping on a model's show.

Video. Purchase hot and exclusive videos from the gay performers.

Fan Club. If you want exclusive rewards, then you should join the fan club.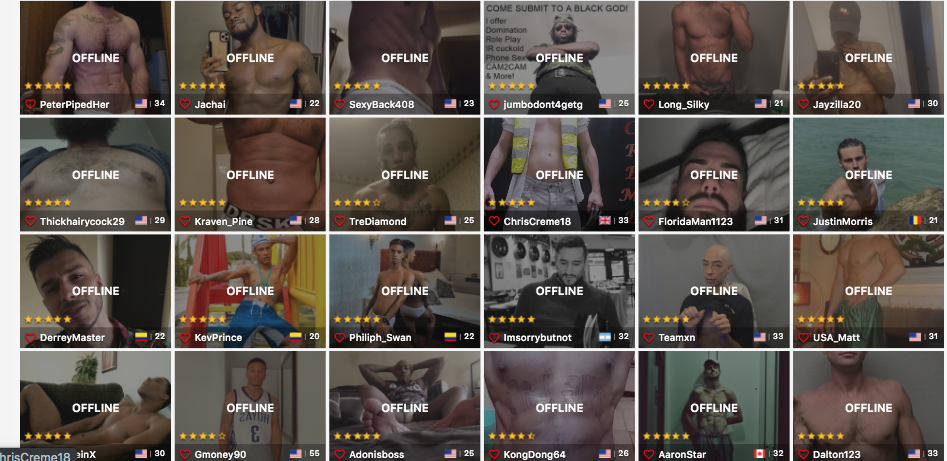 When a gay performer is online, expect the thumbnail to show you a still from their show and the green button. Otherwise, you will just see the XXX cam performer's name, the flag signifying their country, age, as well as the "offline" text on the thumbnail. 
The Models of JerkingMen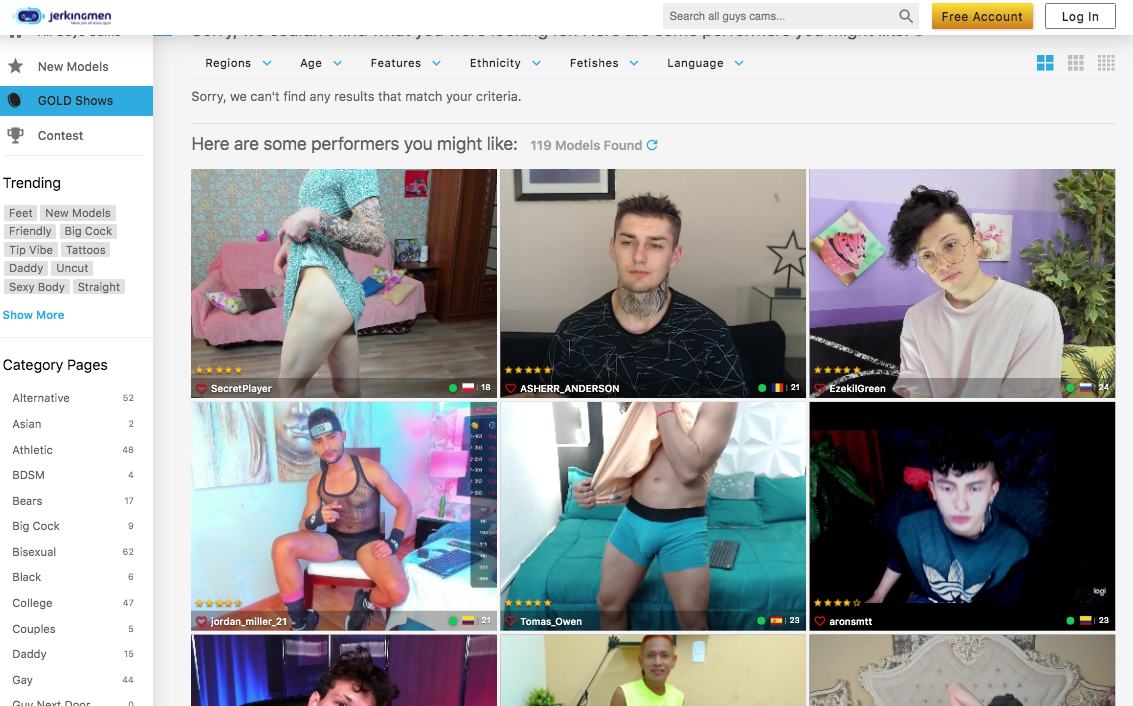 Once you see a performer you like, you can quickly tap on the image to visit the show. You can enjoy the live video and strike a conversation. The gay sex cams are free and you won't be charged unless you join a paid chat session. Per-minute prices will apply for the sessions! 
I tried using the site and found a number of gorgeous gays who are waiting to get fapped on. If I were you, I'd jump from show to show to see what they're all about. After all, you won't lose anything if you compare the sex cams, right? 
Feel free to explore and be as wild as you can get!
If you like how a certain gay performer is performing or interacting with you, you can be generous and give them GOLD. I'm not saying you should give them literal gold, though. Gold pertains to the site currency of JerkingMen! It's definitely a great way to show your appreciation for the sexy gays' hard work. 
There are GOLD shows (or special group shows) where several members chip in to watch. Usually, the gay performer will set up the length, goal, and pledge price of the GOLD show. To join one, you should pledge your gold during the countdown so you can automatically enter the show as soon as it starts! 
Spicy Cam2Cam Action
A lot of horny pervs are after private sessions. It's a good thing JerkingMen lets you share your video with the performer during private sessions! You can get your much-needed quality time with them while jerking off to their sexy striptease, or masturbation.
Of course, you can also request more from them if that's your kind of thing. Just remember to be generous with your tips to get the most out of their performances. All their kinky activities are worth something. 
Our JerkingMen Review: 7/10
I personally think that JerkingMen is a decent gay sex cam site filled with everything I need for a hot fapping session. The shows are nice and cum-worthy, although it would have been great if they had more shows and if the shows loaded faster than its current speed. I
I'm also not gonna ignore the fact that some shows don't load at all. Maybe this is a problem on my part, but I sure hope that's not the case for other viewers. If I am after a super lustful time, I doubt I'd wait for the show to load beyond 15 seconds!
I'm going to wait for the site to show improvements, design-wise. Overall, we encourage you to try JerkingMen for yourselves!
It must interest you: Gay Sex Cam Reviews of Gay Sites