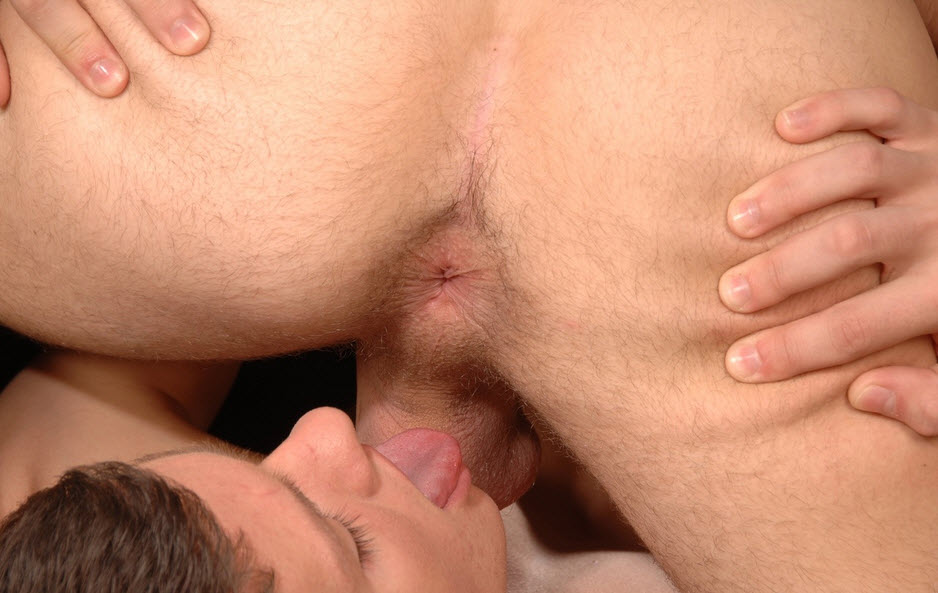 Hello to all of you eyeball queens and other gay porn lovers. Here's your good friend Raymond Oropeza showing you again the way to the most fascinating items to have recently emerged in gay porndom. I don't know if you've already had the chance to sample any of the Baitbus videos, but, if you haven't yet, I'll tell you right away that you shouldn't miss them. The whole concept turns around baiting sexy straight hunks to come aboard and then turn them into dedicated gays. In this particular video, Andrew, a brownie queen who's always on the look- out for big fat dicks to ram his tight asshole, spots a tall muscular hunk with long blond hair. With the help of his pervert good friend Vanessa he lures him aboard by convincing him he's going to offer him a screen test for becoming a model.
Once he's in, Vanessa takes off her blouse, revealing her juicy big tits and Andrew convinces the stud to get out of his pants and play a scene in which he's blindfolded and receives a blowjob from the slutty gal. Naturally, as soon as the guy is hard one of Andrew's buddy replaces her while Andrew himself  bends over and gets rammed in the ass by another of his buddy while watching the straight stud moaning under the expert sucking he's getting.Sure enough, the guy soon enough realizes he's been abused and that it's a man who's sucking him so greedily, and, ripping off his blindfold, pushes him back, protesting that he's straight and won't go for gay stuff. However as he's already hard and quite excited by the voracious blowjob he was getting, he can't help being fascinated by the rock hard cock going in and out of Andrew's bunghole.
He might be trying to protest but everybody can see that his dick remains fully erect and actually throbs with excitement as Andrew teases him and coaxes him to replace his friends meat in his anus since all his buddies, including Vanessa, always get tremendously turned on by watching a straight guy's stiff prick going up another man's willing asshole. After he's told that if he wants to become a model, he has to adapt to his role, this well-hung hunk agrees to participate and actually becomes quite eager. And, as he starts fucking Andrew's ass, he gets so turned on by the tightening anus and the sight of everybody else jerking around them that he soon shoots the load of his life.