What cock-loving gay doesn't get entranced by the sight of a rock hard cock spurting a massive load sky-high after being thoroughly jerked by a genuine exhibitionist who just goes wild when he masturbates in front of his webcam? Certainly not your friend Raymond who nearly loves as much seeing a throbbing sperm-gushing dick as he loves swallowing a load of creamy jizz.  However, I'm fully aware that one can't swallow all the loads he craves for , but that doesn't keep me from being mesmerized by the sight of pulsating rock hard penis spewing gooey jizz all over the place.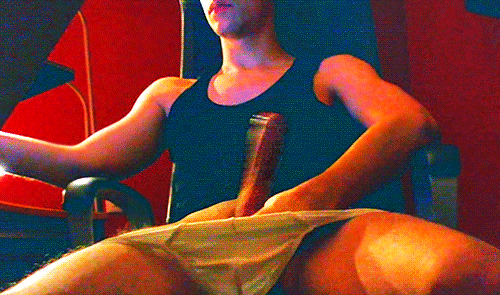 In this scene one never sees the guy's face. For the video's whole duration, the focus is completely put on the hard piece of man meat which is slowly and expertly handled until it explodes into a sperm geyser.  We can see the hand grabbing the base of the beautifully erect cock and showing proudly to the camera that it is so extremely excited that the knob literally shines under the intense pressure swelling it nearly to the breaking point. While the left hand fondles the balls and squeezes the roots, the right hand slowly and lustily slides up and down the swollen prick as it presents it proudly to the camera.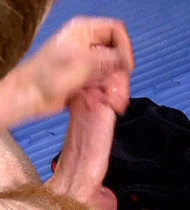 The crystal clear close-ups on the turgid knob are breathtaking and one can soon observe a drop of pre-cum oozing from the opening at the tip of it. Any hot-blooded male who has stroked his own cock to climax knows that from the moment this drop of clear pre-cum appears at the tip of his cock, there is no turning back and climax is on its way.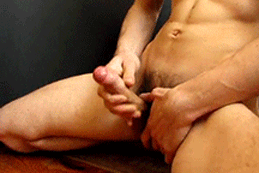 However, the real self-indulgent pleasure seeker, as this guy obviously is, knows that if at this moment he slows down the movement and controls his breath he'll not only be able to hold out the moment of truth, but that when he won't be able to wait any more a couple of fast strokes will multiply his pleasure ten-fold.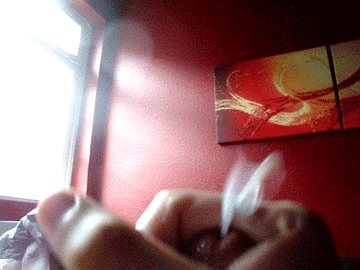 And this is exactly what happens with this seasoned exhibitionist masturbator.  When he gives his cock its final stokes, it shudders as if it was to burst and then explodes in an incredibly powerful and abundant ejaculation that covers his whole chest and belly in a thick coat of jizz.