Connecting and chatting with various gays online sounds like a good idea when you are feeling horny and lonely. In fact, we bet you've already done a bit of research and stumbled upon various chat room websites. Given that there are a lot of other platforms available, it's worth knowing what makes Chat Avenue Gay stand out for single gays who want to bring more joy, passion, and sex into their lives. After all, you're about to jump into a whole new community and try your luck finding your best match.
Surely you have many questions running through your mind. Is the service worth it? Am I going to waste my time by trying this out? Most importantly, is this site safe? In our Chat Avenue Gay review, we'll find out everything there is to know about the website so you can chat in peace. 

Pros and Cons of Using Chat Avenue Gay
We want to make sure that we are comprehensive with our review. Here's a summary of the pros and cons that we saw while using Chat Avenue Gay. We'll cover all that later!
PROS
Chat Avenue Gay is free to use. No payment is required before you use the chat room.

There are security moderators
Homophobic remarks are not tolerated
Cam sex is not allowed
Reasonable features for a free platform
CONS
There's too much going on because it is a big chat room

A lot of gays would probably throw themselves at you whether you like it or not
Some users are creepy
It's hard to keep up the conversation
What is Chat Avenue Gay?
Chat Avenue, which first started as a simple free hosted chat site targeted at general audiences, was founded in 1999 and has become the leader or pioneer in free online chat rooms. It joins old and new chatters from across the globe, making it one of the biggest chat communities on the internet today. There are different chat rooms available such as live chat, dating chat, lesbian chat, sports chat, sex chat, and more.
No matter what age, gender, preference, and race, you will find a good person to talk to here. But if you are gay, then you will find yourself exploring the wonderful world of gay chat! This room is perfect for gays, homosexuals, and bisexual men who are ready to connect with others and enjoy real-time discussions on the platform. 
Chat Avenue Gay Membership Tiers and Prices
The website has always taken pride in its free service to connect you to anyone from all over the world. But if you want to upgrade to its VIP membership and enjoy perks such as customizing your profile, creating your own room, appearing at the top of the user list, and more, here are the rates: 
Chat Avenue Gay Chat Rooms
$5 for 1 month
$10 for 3 months
$20 for 12 months
$25 for lifetime
Getting Started in the Chat Avenue Gay Room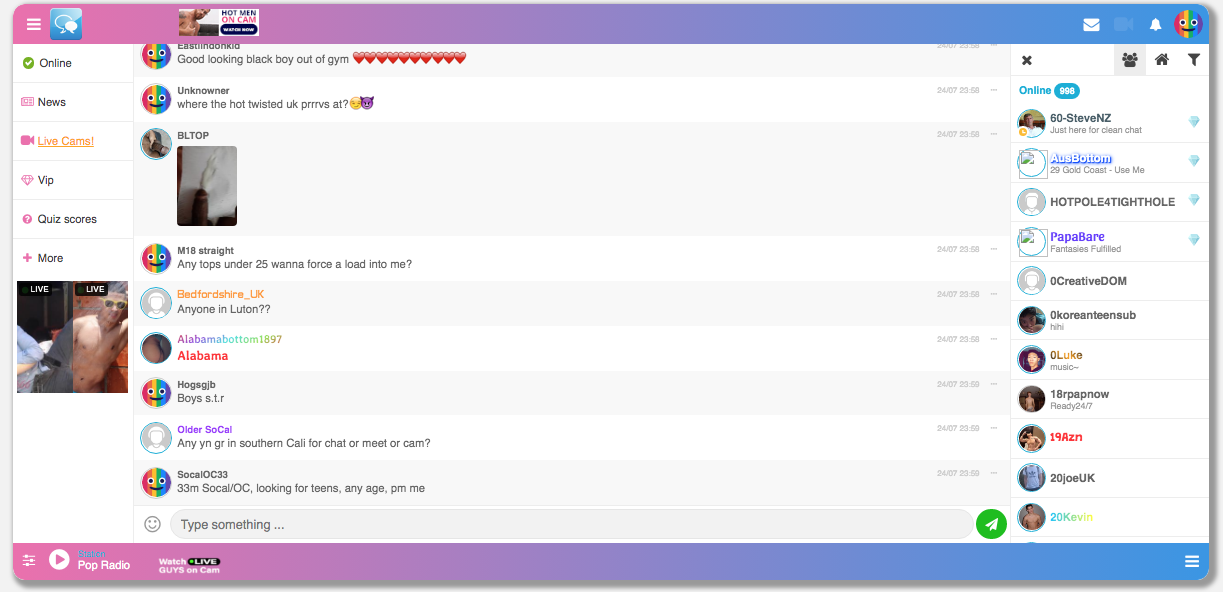 The gay chat room is considered large and can accommodate 400 to 1,000 users throughout the day. It can get pretty busy since there are a lot of people talking at the same time, but for some reason, there's a thrill in that! 
Wait, I get to chat with lots of gays and twinks at the same time? 
Yes! The chat room is big enough to hold up to a thousand users. You won't need to worry about doing an icebreaker since you can easily reply to one chatter or send in your own message. There is no specified topic and you can even start an open discussion with everyone in the group.
Our Experience Using Chat Avenue Gay
Using this chat room doesn't even need a guide. It is user-friendly and you can figure it out once you're there. Proceed to the website and choose "Gay Chat" from their list of free online chat rooms.
Once you select that, read the chat rules and regulations first before entering the room.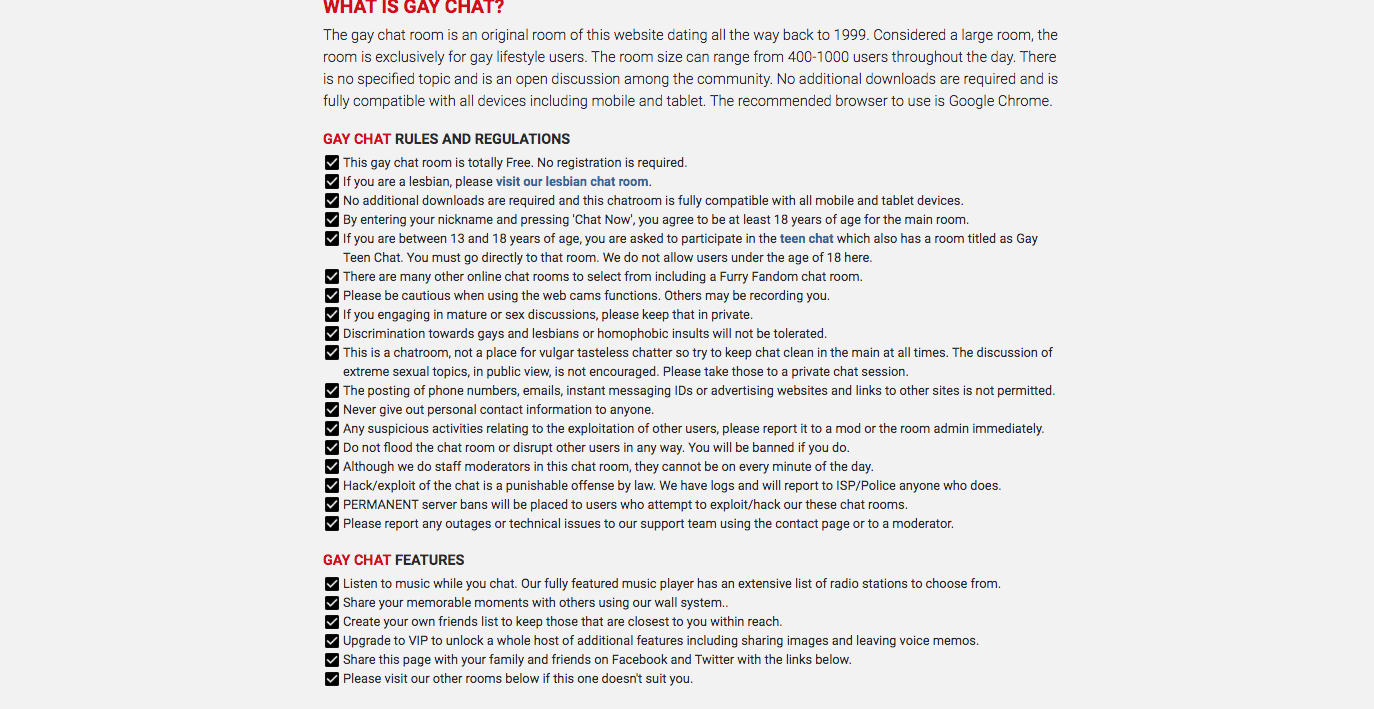 Are you ready to chat? Click "Enter Gay Chat" and start getting chatty! You have the option to choose log in or guest log in.
After that, you'll be redirected to the chatroom and connect with others. If you see someone that interests you, you can just click on that person's profile photo and send him a message so you can get to know him better.
That's it!
What makes it so popular despite its simple interface? Let's check out the features one by one. 
1. It is also able to keep up with the changing times and now offers live text, audio, and also video.
What can we say? If I am looking to chat with a partner or just someone to fool around with, it's good to know that I have chat options! There's even a chat roulette-style room for one on one webcam with strangers. 
2. Unlike other chatting websites, you don't need to take out a single penny from your pocket because you can just sign in and start chatting anyway.
It's rare to find an online chat website that really lets you chat from the get-go. Some only use the word free for marketing purposes, but in reality, you'd be charged before you even send out a message. It's also true when Chat Avenue Gay said you don't need to log in. If you want to try the room as a guest or anonymously, go for it!
3. You can listen to music while you chat!
How cool is that? One of the features of this website is their music player with an extensive list of radio stations to choose from. Definitely no dull moments!
4. You can share your memorable moments with others!
The website has a wall system that lets you do just that. It's a nice addition, right?
5. If you have your favorites, you can create your own list.
You can keep those that are closest to you within reach by putting them on a friends list. 
Conclusion: Overall, our Chat Avenue Gay Review is a 7/10.
This platform is nothing fancy, but it definitely serves its purpose. If you are looking to connect with other gays or twinks, then this is a decent place to start. You can't help but expect more from it, but since it's free, you can't really complain!