Chatrandom is one of the best-known sites for meeting random individuals and going on random dates. It enables you to meet new people rapidly by utilizing video chat, normal chatting, and other forms of communication.
The original version of this application was released by the founders in 2011. During those years, it was a rousing success. What's even better about this site is you'll not be required to go through a time-consuming registration process. 
Chatrandom's primary goal was to form couples from all over the world in real-time. In this instance, people can make use of the video cameras built into their cellphones as well. Chatrandom was developed in accordance with this concept.  
Because of today's cutting-edge technology and sophisticated communication capabilities, users from all over the world (including gay men and lesbians, couples, as well as those of standard orientation) can meet and mingle with interesting people on the internet.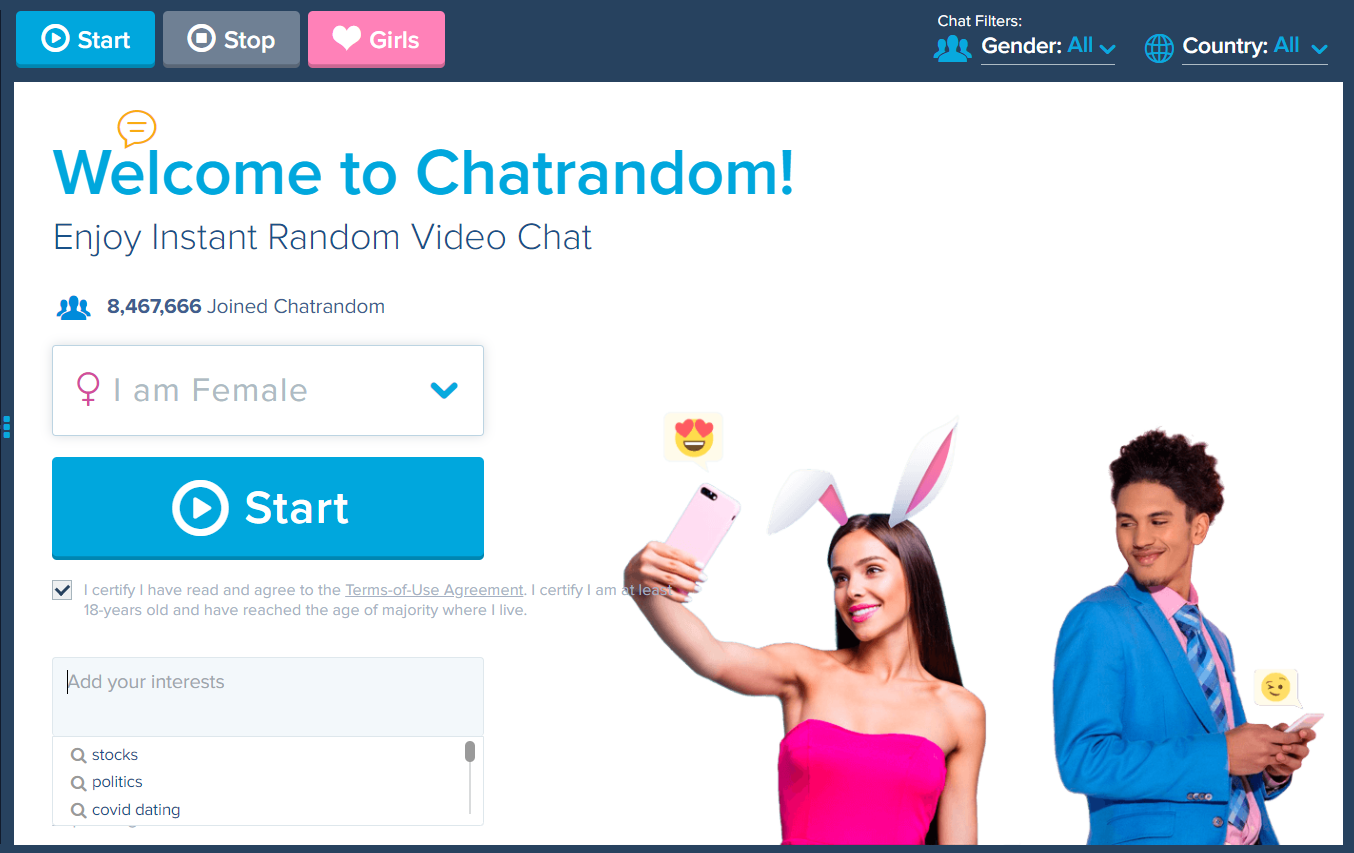 But it's not just the people who are interesting! Even this site has an interesting interface. Let's see some of its features:
SIGNING UP AND REGISTRATION
On Chatrandom, right from the start, things start to get interesting. It is completely free to create an account there, but you're under no obligation to do so. Anyone may just log onto Chatrandom and begin speaking with other users without having to create an account. The only time you will require this is if you intend to purchase a premium membership.
By creating an account and upgrading to a premium membership, you would be able to make use of various advantages that other non-registered users do not enjoy. When it comes to creating an account, users have two choices. They have the option of providing an email address and password or linking their account with Facebook or Google Plus.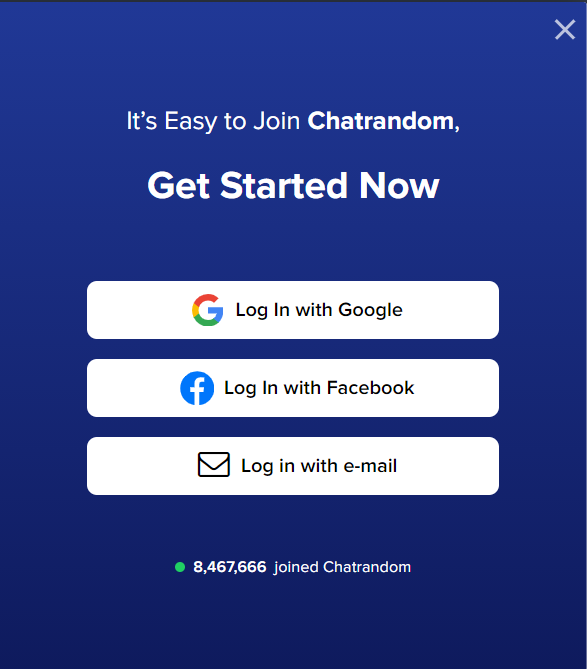 The first one should go without saying. You must enter your email address and password. Users will receive an email with a link they must click on in order to validate their account. Once that is completed, you will be able to begin using Chatrandom immediately.
There's no need to make any changes to your profile or anything like that. All that is required is that you validate your account and begin using Chatrandom instantly.
DIFFERENT TYPES OF CHATRANDOM COMMUNICATION
Due to the nature of this Chatrandom, all communication functions are centered on the chat system. The good news is that there's a variety of them available. Let's go through all of it.

Random Chat with Gay Boys on Webcam
First on the list is the random chat.   As the name implies, this is a place where you can have one-on-one conversations with strangers. Because you are matched with other users at random, the matchmaking mechanism is extremely hands-off for you. Those who participate in Chatrandom seem to have little discretion over who they connect with on the site.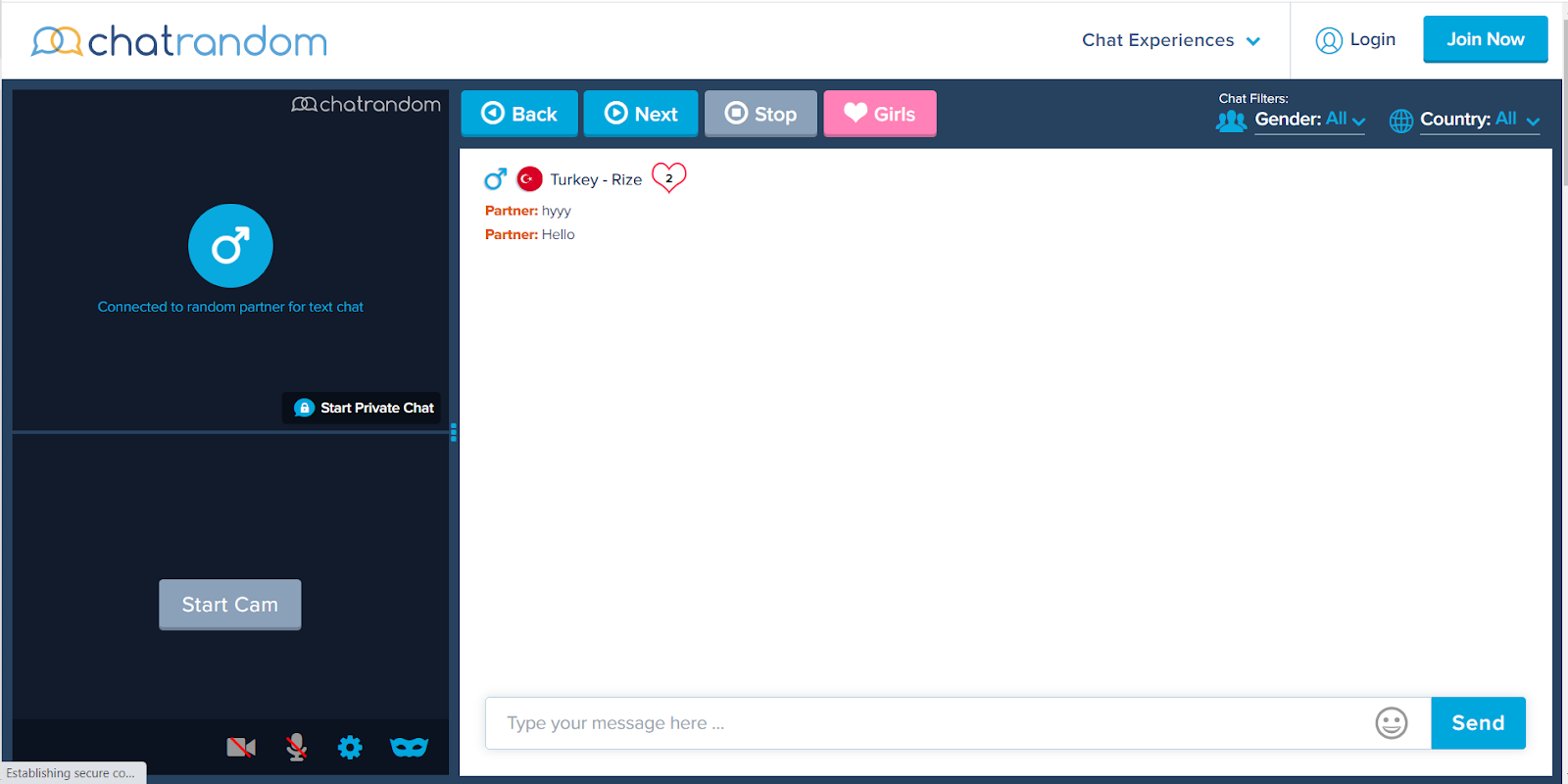 Gay, Couple, Trangender Chatrooms
There is also a chatroom feature.  This is where you can have a conversation with more than one person at a time. There are a variety of rooms to choose from, and some of them are clearly designated as such.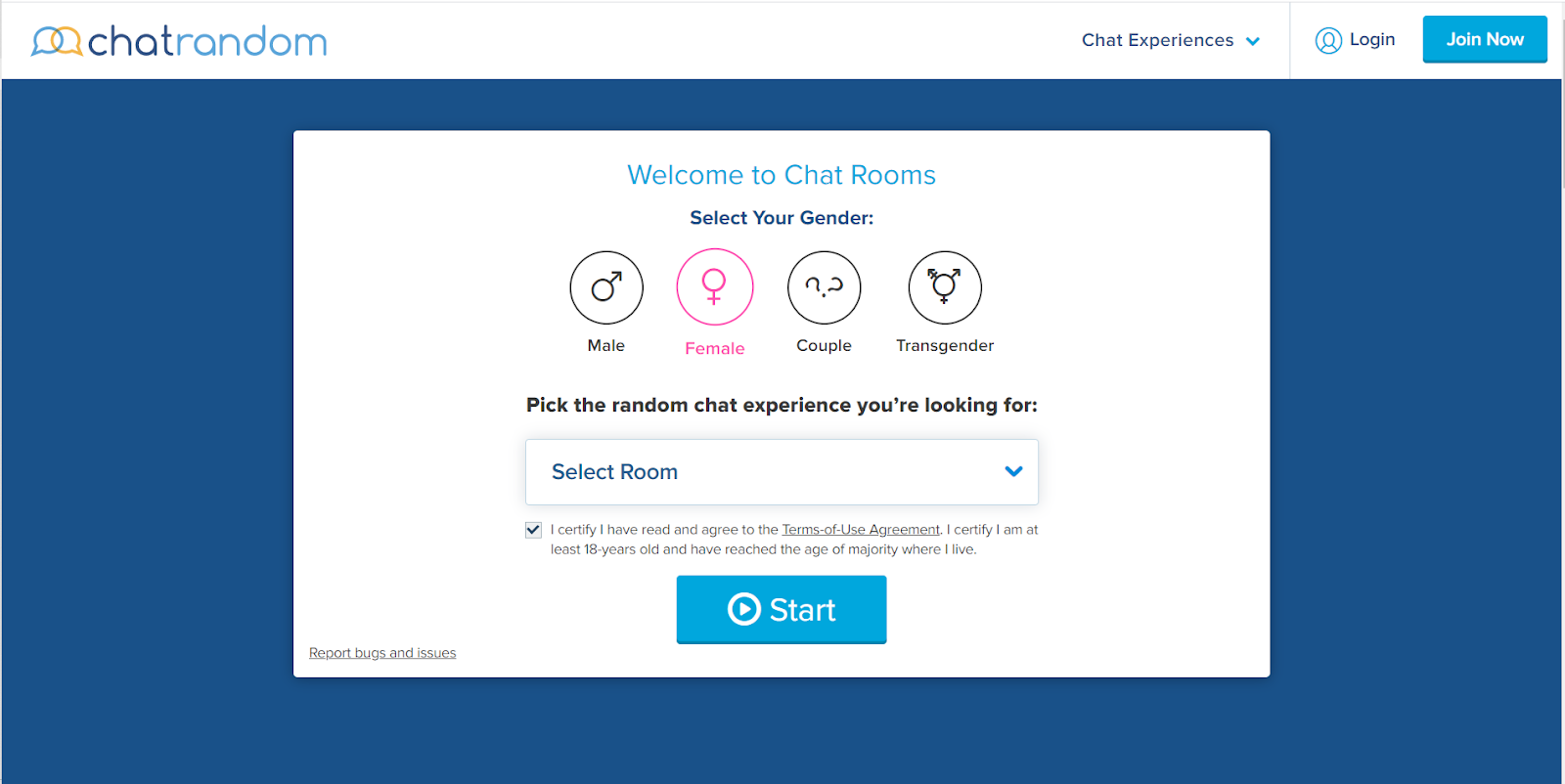 This way, you'll be aware of the type of talk you're participating in. For example, if you want to communicate with singles, you can do so in a chat room dedicated to that purpose.
 There are additional chat rooms for gays, college students, girls only, and people who just want to pass the time in a relaxed environment. Chatrooms could be either text-only or video-only in nature. So make sure you have a webcam and microphone ready to go.
Gay Chat Cam
Chatrandom gay chat matches you with random gay cams in real-time. No waiting is needed! There are thousands of men online eager to connect with you for a great gay video chat session. It's possible to use the basic video chat services for free, or you can upgrade to gain access to all of the options available to you.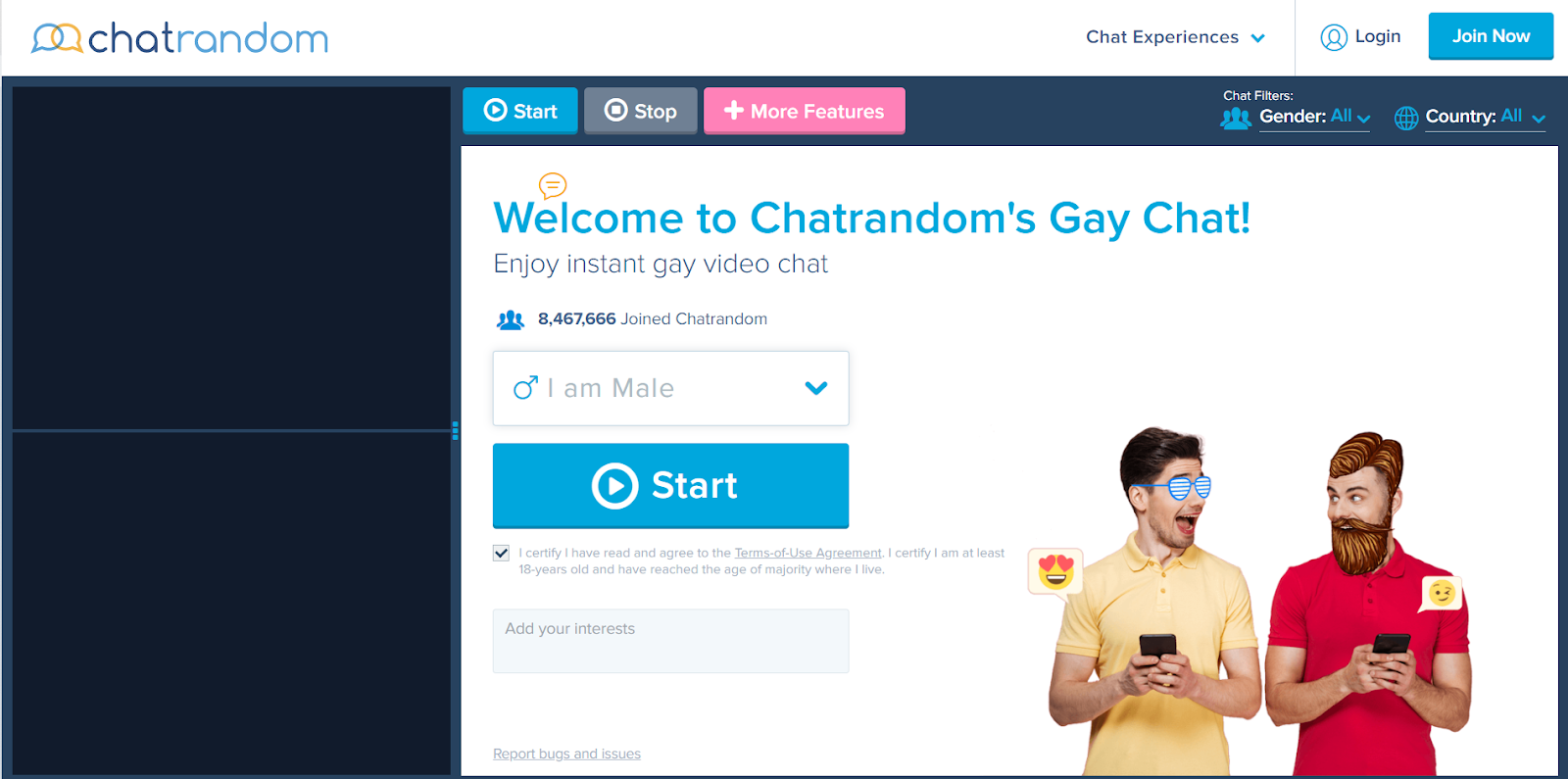 Simply pressing the start button will allow your camera to be instantaneously paired with another random gay cam, allowing you to begin using gay chat. Once you have finished video chatting with the stranger, you may click "next" to move on to the next random one.
Chatrandom Filters and Search Function
Regrettably, there's no search option available in Chatrandom. Gender and location filters are accessible, but these are only accessible to premium users. Even yet, if you're looking for a specific user, the filters are of limited assistance. It does nothing more than limit down the search range a little bit.
CHATRANDOM's SECURITY AND SAFETY
How well does Chatrandom safeguard its members? Given that it's primarily concerned with speed dating and confidentiality They did an excellent job actually. 
To begin with, all users' connections to their websites are secured using encryption. This ensures all users are safe from hijacking attacks.
When it comes to protecting one's personal information, there isn't much to say. Chatrandom guarantees additional security, and they will not disclose your confidential information unless you consent.
Scammers will also have a difficult time on Chatrandom because the majority of users are quite knowledgeable on how to recognize and deal with them.
Overall, the security of Chatrandom is outstanding, so there's no need to be concerned about anything.
Conclusion
You should be aware that this video chat is rather thrilling, especially when considering the general nature of a site like Chatrandom. It has already established itself as a platform for a large number of people. 
Video chat is a great function for communicating with one another over the internet. You just have to deal with some bad behavior if you ever come across one, but you always have the choice to click "next". Enjoy the Chatrandom experience for free as much as you can.