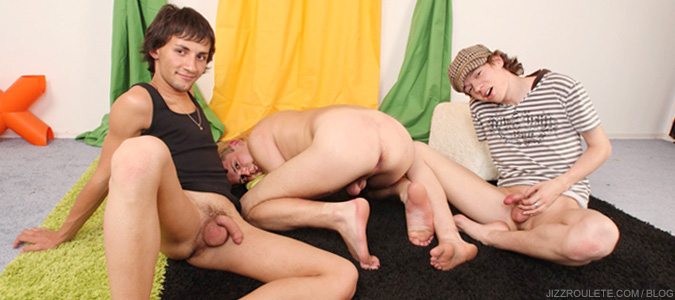 What's more exciting than watching a fat stiff cock shoot its load after a hot bout of ass-fucking? Well, for your friend Raymond, that's an easy one to answer, watching two cocks spurting their creamy jizz after having jointly penetrated a fully distended anus is indeed a lot more exciting. I can tell you that I just couldn't stop jerking all the time I watched that super-hot scene. It starts with a pretty blond twink giving a voracious blowjob to another cute fag's long dong. As he's avidly sucking the stiff cock like there was no tomorrow, a third guy comes behind him and starts caressing and kissing his neck and shoulders.
Soon the third guy's prick stiffens and he unbuckles the blonde twink's jeans before sliding them off his body while the guy never ceases sucking for a single second, even as he raises his butt to meet the tongue that's giving him a slurpy rimjob to prepare his brown eye for an intense penetration session. After lengthily licking the twitching anus while stroking his own pole to make it rock hard, the guy who's behind pulls the butt cheeks wide apart and rams his throbbing meat to the hilt in the spit glistening asshole. All the time his ass is played with and fucked, the blond boy never ceases to greedily suck while jerking his own cock with a frenzied hand.
After a few minutes of ass-fucking, the third guy suggests to the guy receiving the blowjob to stretch on a mat and tells the blond toy boy to sit on the thick rigid cock he was sucking. With no hesitation he does as he's asked and engulfs the stiff cock to the balls in his anus. As he rides the camera zooms for an attractive close-up on the penetrated ass-hole and we see it getting even more distended by a spit lubricated finger which is inserted in it along the fat cock that's ramming it.
This stretching of his ass-hole makes the blond boy moan, but that's only the beginning because as soon as the guy behind feels it's been lubricated enough, he grabs his own stiff prick and pushes it inside along the other piece of man meat. With his butt hole stretched to the limit, the twink screams as much from pain as from ecstasy. This screaming and bucking drive the two eye doctors to a lust frenzy and they both withdraw and roll the twink over to cover his face with two heavy loads of gooey cum.